How To Uncover Hidden Gem Keywords
?
If you want to receive tons of organic traffic, you'll need to invest time and energy into your keyword research. Discovering keywords to target is a crucial step for any business that wants to grow online and essential to any search engine optimization strategy. Your ability to make the most out of your existing content, find new topic areas as well as keep up with new keyword opportunities are heavily reliant on which keywords you use.
However, you can't just plonk keywords here and there all over your website and expect to rank for them. You have to have high-quality content that is arranged in content clusters to enhance your user experience while outranking your competitors and using long-tail keywords to increase your conversions. There's more involved than you might have thought. Luckily, this article will help you break down what you need to do in order to find keywords to target, then rank for them to start achieving greater visibility, credibility for your site, and most importantly – conversions.
Figure Out Your Content Clusters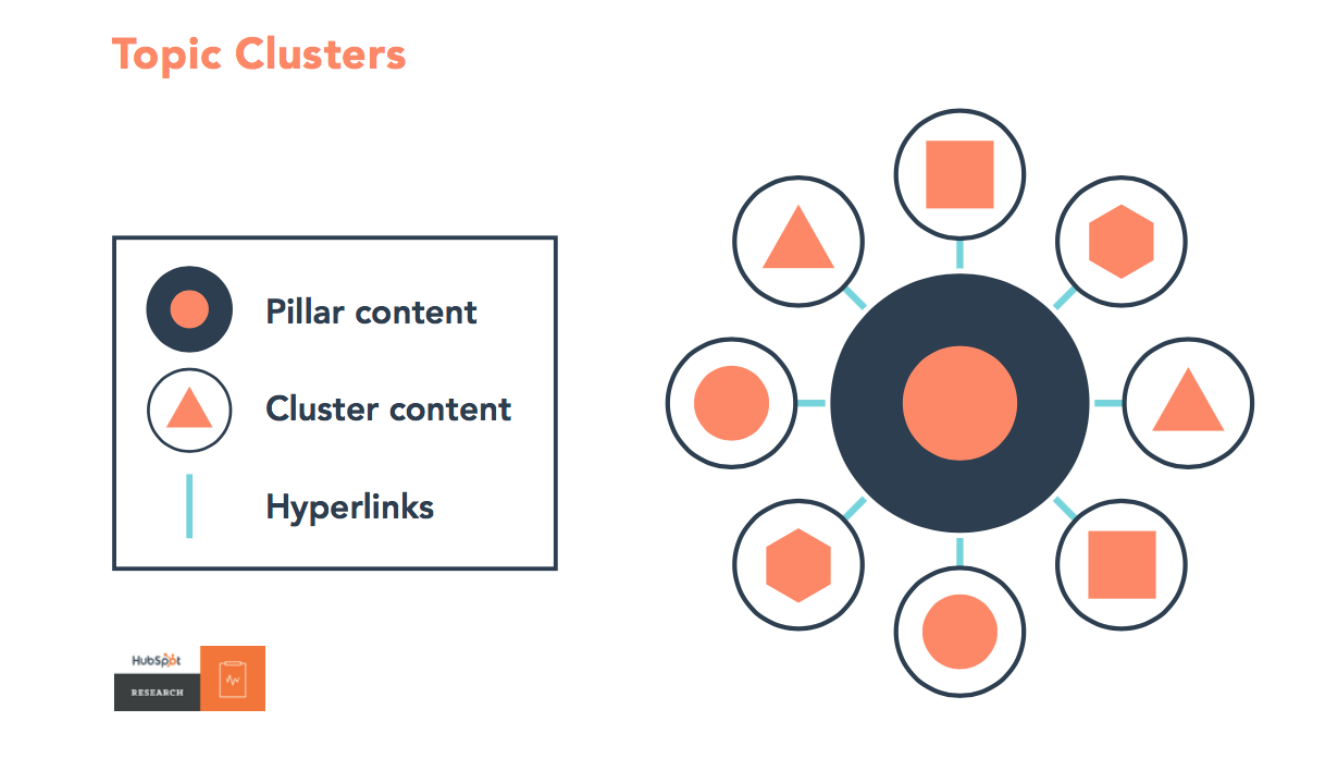 Source: https://blog.hubspot.com/marketing/topic-clusters-seo
Topic clusters are several content pieces groped under a certain topic. By using these topic categories to operate your blog, works to organize your content, and help visitors find what they are looking for. You will probably be able to identify a handful of themes from your postings, which form your content clusters. For example, if you have several content pieces on how to create more efficiency in the office, you could place them under a 'Workplace Productivity' topic cluster.
Your strategy should then be to develop content under each topic which gives your blog the structure it needs in order to be user friendly and to be indexed better by search engines for greater visibility.
Google and other search giants are forever adjusting their algorithms, meaning content clusters have become more important than ever to increase your ranking in the search engine results pages (SERPs). Under this method, you will create a 'pillar page' around a particular topic. This acts as a hub for all of your content and resources on this topic, linking out to more specific pages that also link back to the pillar page. This sends a signal to SERPs that your pillar page is an authority on the topic.
As they grow in data, search engines are now able to understand the context surrounding a query far better than previously. As a result, there has been a subtle but definite shift away from keywords and onto phrases.
The ranking is now based on a model sometimes referred to as EAT – expertise, authority, and trust. Your site will need all three factors in order to really be using search engine marketing to its full potential.
Start by carefully considering your target audience, their motivations and challenges, and the wider context when constructing your pieces. Think about the main theme and also the subtopics that come under it, and you'll begin to best understand how to structure your site for maximum results.
Reverse Engineer Competitors
No matter what sector your business operates in, there's no doubt that it's a competitive, global market place out there. You will be up against a landscape of multiple other businesses, all competing for the same set of customers. Search algorithms are showing us that focusing on our competitors is an essential part of the strategy for our own sites and marketing plans. It's not enough to focus on your own plans – you also need to be fully aware of how to outrank your competitors on search engine results for relevant phrases.
The first step is to develop a clear understanding of exactly what phrases you need to be ranking for. This starts with identifying marketing personas, and considering what challenges they face that your product or service is designed to help them overcome. You should also think about keywords that indicate the purchasing intent of the prospective customer. Using a keyword research tool like Ahrefs or SEM Rush, or simply looking at the alternative searches at the bottom of the Google results page, can give you a much clearer idea of what this should be.
Then, you need to put in the work to fully identify who your competitors are – they may not always be who you think! It's worth considering sites that you may not have thought of as direct competitors, such as review sites or voucher code sites, who are eating your traffic with well-composed pages.
Then, take a closer look at your on page SEO. Namely, investigate some of the key elements of the page: the title tag, meta description, and URL. Checking elements on a competitor's website such as TLD extensions, the structure of the website, and domain authority can also help you to gain a greater understanding of whether you need to be making similar changes in order to improve your page rankings.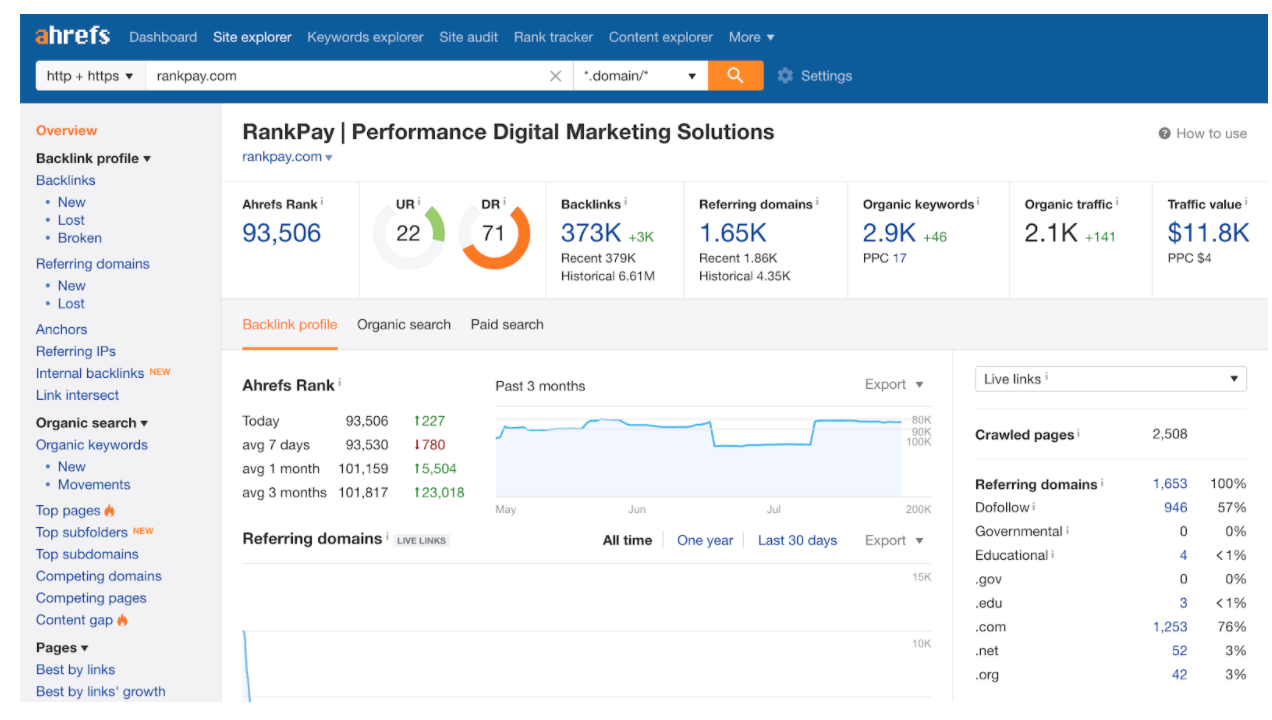 Source: https://ahrefs.com/site-explorer/overview/v2/subdomains/live?target=rankpay.com
The final step is to look into what is sometimes called the 'off-page' strategy of your competitors – what their best performing content is on social media, and where they go to build backlinks. This activity can ensure that you build up a very comprehensive picture of the marketplace, your competitors, and what actions you can take to boost the visibility of your own pages.
When using a tool like Ahrefs to check the backlink profile of your competitors, pay attention to the metrics like domain rating (the relative metric of the domain strength; 40+ is considered strong), number of unique referring domains, and estimated organic traffic. You can also go deeper and export all the backlinks in the. CSV format to check the average strength of the individual backlinks.
In order to rank higher and bring organic traffic to your funnel, make sure your landing pages and forms are optimized with your keywords and that they are strategically placed. Google Forms, or its more powerful alternative, is a great way to create beautiful interactive forms that are customizable to represent your brand and ensure your directed traffic turns into conversions.
Dig Deeper
Another trick you might well have been missing is the power of long-tail keywords to develop your website. This knowledge may go slightly against what you are used to thinking about when it comes to search engine optimization. Instead of bidding on keywords with a high volume of traffic, you need to alter your strategy to take account of search trends and purchasing intent. This way, your business may well be better off positioning itself to rank for ten keywords with a search volume of 100 each, than one keyword with a 1000 search volume.
These three and four keyword phrases are highly specific, and that signals that a customer is much further along in their purchasing journey. In general terms, the more specific the search phrase, the more likely it is to be highly converting and result in a sale, while more generic keywords have a greater likelihood that the customer is merely researching.
The good news is that it's also much easier to achieve a highly ranked page for a long-tail keyword, as there is less competition. The key is to aim to create a page for each long-tail combination. This results in a much more content-dense site while helping to improve your site's search ranking.
A unique page contains its own title, meta description, H1, and H2 header tags, and body content to support your offer and help to convert the prospects that land on your page. This strategy works, but it can run the risk of reduced traffic levels. However, you can combat this by setting up a few pages to focus on less targeted traffic and lots of lower-level ones to focus on the more highly-targeted longtail phrases. This ensures a good balance and should score you more conversions whilst also helping your site rank more for exactly the phrases it needs to be known for.
Conclusion
Nowadays, everyone is chasing the same keywords. It's up to you to find and target hidden gem keywords that will enable you to compete and rank for traffic that your competitors aren't.
These few tricks will help you to understand and target keywords to make you more competitive, help you to produce relevant content to your audience, rank higher in search results, and increase your conversions.
Guest Author Bio:
Tegan Tedd is a content marketer at Paperform. She loves writing about marketing, technology, and workplace productivity.