Turning Your B2B Leads into Customers
?
This article was written by Alex Fishleder, CEO of Leadworx.
In the world of business to business, leads are the lifeblood of any company. For the purpose of this article let's define a lead as an individual or a company that is interested in what your organization is selling.
The demand generation team within a marketing organization is tasked with generating leads and moving them through the funnel (more on that later) until they are handed over to the sales team that ultimately converts them from mere leads into paying customers.
Every marketer should have the funnel front and center in everything that they do.
In fact, I recommend you print the image below and post it next to your computer. This way, you are constantly reminded that every project, tactic, or initiative you work on should help move leads down the funnel.
This is what the funnel I keep alluding to looks like: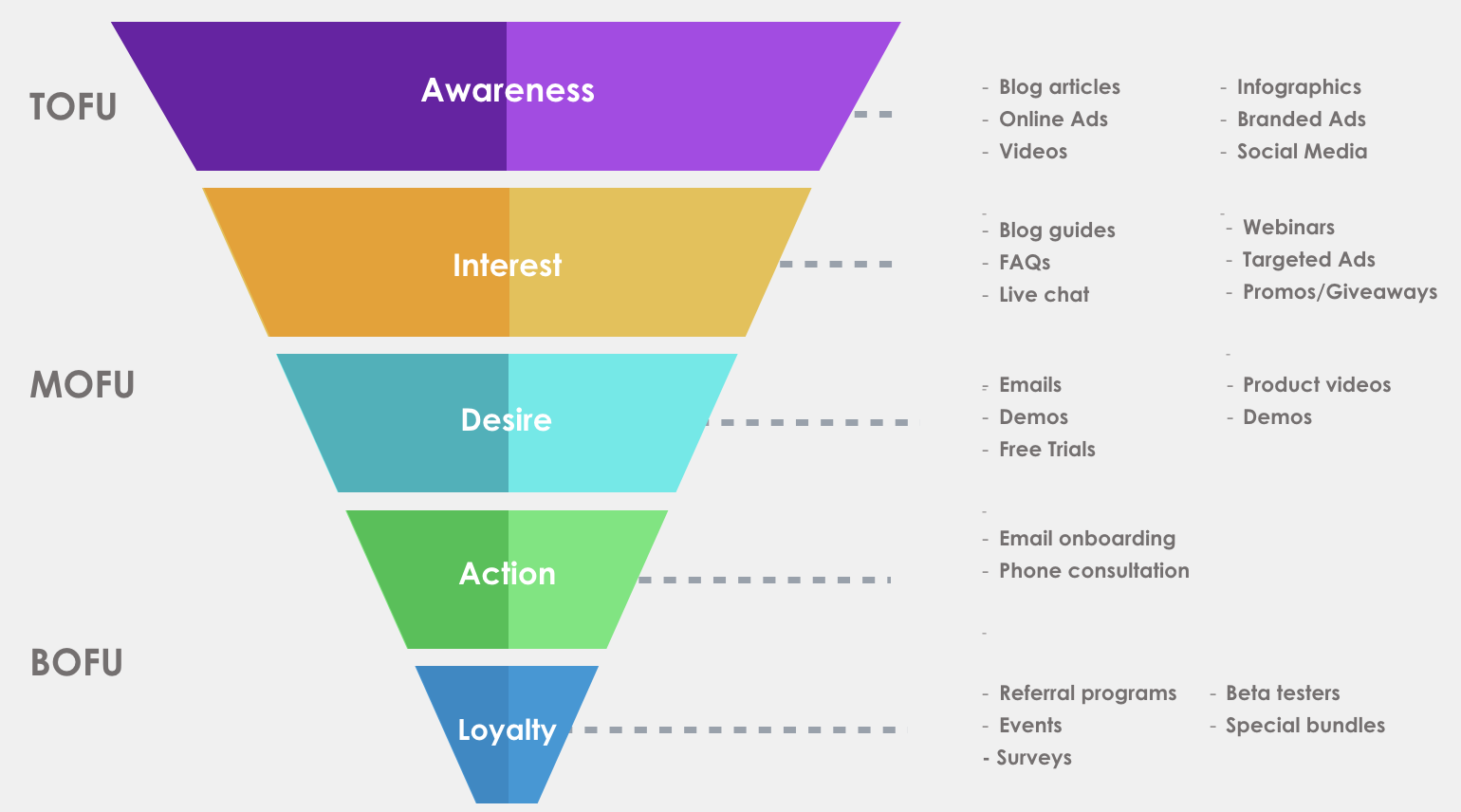 In this blog, I will only talk about the first 4 stages of the funnel, basically before Marketing "officially" hands off the lead to the sales team.
Awareness Stage
At this point, it's all about "attracting the right audience". People and companies do not know your company and it's your mission to get it on their radar.
At this stage prospects are also looking for information, so your organization should be producing content that informs, answers questions, and provides solutions to their pain points.
You want to position your company as a trusted resource that shows the value and benefits of doing business with you.
On a tactical level, here are some methods to build top-funnel awareness.
Pay Per Click Advertising: Advertise your solution online and bring users to a landing page with a relevant call to action that encourages them to submit a form.
Search Engine Optimization: Create relevant, informative content that brings traffic to your website and introduces visitors to your brand and value proposition.
Public Relations Campaign: PR can be easy to execute and has a high return on investment (ROI) for most companies.
Identifying Web visitors: If your Call To Actions and landing pages are converting at a low percentage, consider visitor ID Software, this is basically akin to having a "pair of googles" that show you who is on your site at all times.
Interest – Building Trust
Congratulations! Website visitors are now in your marketing database or CRM. They have graduated to the next stage of the funnel and they are now officially leads.
Your mission is to engage with the leads, start building a relationship, and introduce them to your brand, products, and value. Remember trust is the oil that lubricates business relationships.
Some actionable tactics here would be:
Webinars: produce a webinar that positions your company and your employees as experts that understand the prospect's pain point and can provide answers in a certain area. You can also feature outside experts and partner with other organizations.
White Papers: This is your opportunity to show your company's expertise. A WP helps readers understand an issue and solve a problem.
Case Studies: Companies want to see how their peers in the same industry received value from working with your company. They want to see results, read testimonials, watch videos, and understand what your business can do for them. Remember, what someone else says about you is more impactful than what you say about yourself.
Lead nurturing: Also known as drip email campaigns, this is the process used to deliver the above types of content. Depending on how prospects interact with the content, leads can be scored and moved further down the funnel.
The Consideration Stage
At this point, you have built a relationship. Your prospect trusts you and your capabilities.
Now it's showtime! You have told your prospects what your firm can do for them, but now it's time to show them.
At this point, the lead is a Marketing Qualified or MQL, which means the prospect has a need, trusts your company, and wants to learn more about your product.
MQL parameters are different in each company, that is why lead scoring is a must.
Throughout the life-cycle of the lead, you should continue to build trust and introduce the MQL to your product via a trial, a personalized demo, or a consultation with your company's experts.
Some companies begin pitching their product and solution higher in the funnel, and unfortunately, this tends to "Scare leads" since they are not ready for that information. Too soon!
Marketing is a discovery process and as marketers, we guide prospects down the funnel and qualify them at every stage.
Concurrently, your prospect is also qualifying your company, that is why it's not worth the time and energy to force leads down the funnel.
If you realize a lead is not a good match at the awareness stage, then why would you spend time, energy, and resources to guide it down the funnel?
Guest Author Bio
Alex Fishleder is the CEO of Leadworx, a visitor identification, and website personalization platform. His mission is to level the playing field by providing SMBs with the data they need to generate sales and growth. Alex holds a BA from the University of British Columbia and an MBA from the University of Notre Dame.